Modules
Most Mura Modules are optional add-on features that can be turned on and off on a per site basis. A few are essential to the functionality of Mura and cannot be disabled such as Categories and File Manager.
Modules can be turned on and off on a site-by-site basis by going to Site Config > Edit Site, and clicking the Modules tab.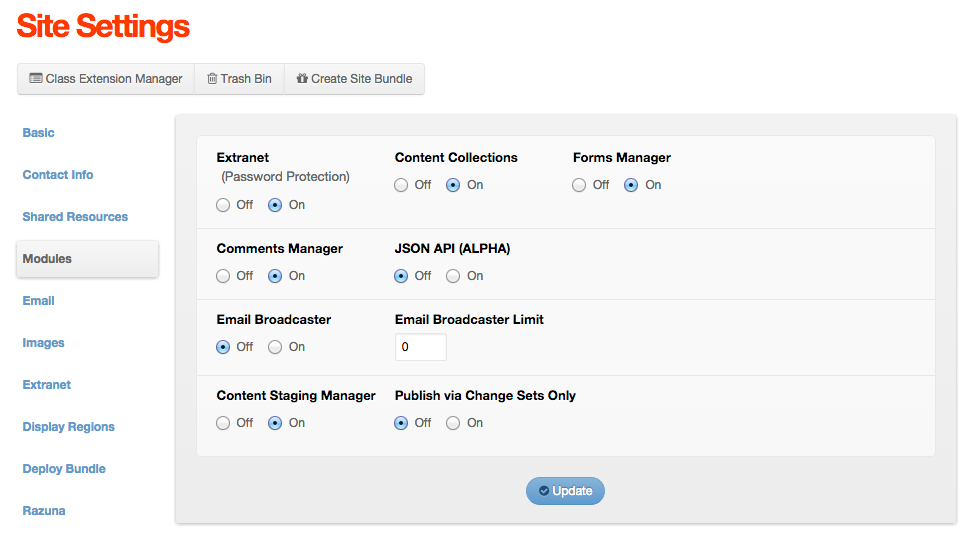 Linkes to the modules themselves, are located under the Modules button found on the primary navigation.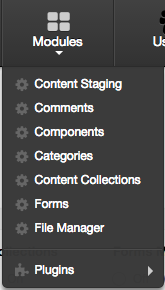 Content Staging
Simultaneously publish multiple content changes all at the same date and time with Mura's Content Staging Manager and Change Sets.
Comments Manager
Quickly and easily manage comments that have been collected and submitted via Mura's "Accept Comments" display object.
Components
Mura Components are a flexible and easy way to provide pre-formatted content templates and reusable objects throughout a site.
Categories
Mura has powerful category-based functionality, enabling you to create extensive category/subcategory structures (and set up navigation based on these structures).
Content Collections: Local Content Indexes
One of Mura's more powerful features. Here you can easily create indexes of content from within your site, based on almost any business rule you can dream up - no code or SQL needed.
Content Collections: Remote Content Feeds
Remote Content Feeds allow you to select and place content from external RSS feeds in your Mura site.
Forms Manager
Mura's Forms Manager allows you to create simple forms to collect, view, and download data.
File Manager
Contains all of the files associated with your web site. Accessible only by the Site Admin.
Plugins
Any plugins assigned to the specific site will appear here.